Marotta Evolution is the established market leader as so far it is the first and only company worldwide able to build automatic burrata cheesemaking machinery able to operate completely unattended.
The innovation we have brought to the dairy industry is a major development in the burrata cheesemaking tradition, which automates the process while maintaining all the genuine quality of a typically Italian product popular right around the world.
Mevo Smart and Mevo Fast
Automatic burrata cheesemaking offers many benefits compared to the traditional method. Our machines exponentially increase production capacity and slash production costs with no loss of product quality. A more uniform appearance, quality and consistency can also be achieved.
Driven by our mission to ensure that automated burrata cheesemaking is easy and accessible for everyone, we have decided to standardise our machines' names to make them more international and easy to remember. So from today, you can request information and purchase your first automatic machine by choosing between the MEVO SMART and the MEVO FAST, with the following key features and characteristics:
The Mevo Smart is the first single-line machine able to produce 300-400 burrata cheeses an hour of any size, with or without head. As its name suggests, it is exceptionally user-friendly.
The Mevo Fast, on the other hand, is a high-speed machine able to produce from 900 to 1200 cheeses an hour in any size, with or without head, and with exactly the same product quality.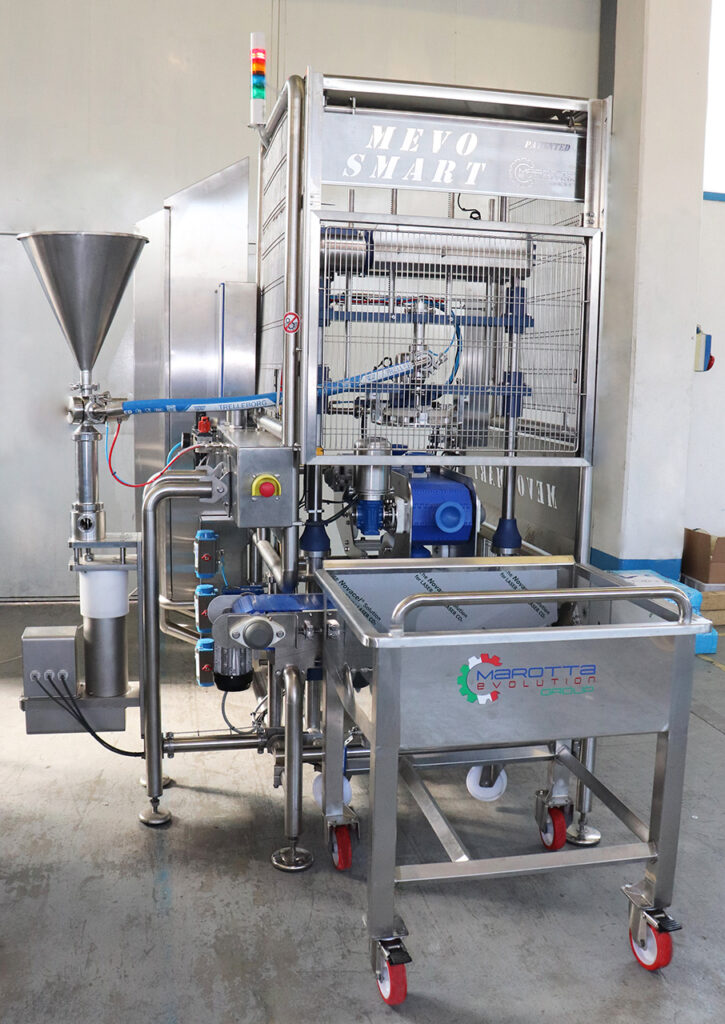 Request more information about Marotta Evolution's automatic burrata cheesemaking
If your company is interested in purchasing an automatic burrata cheesemaking machine contact us now. Marotta Evolution offers you a preliminary consulting service as well as after-sales service to ensure that machines function correctly and meet every cheesemaker's specific needs. Call us now or contact us via email!